Antalya International Airport Havaş Bus Shuttle Timetable and Route
FROM CİTY
FROM 5M Migros AVM to Antalya Airport Timetable:
01:30
08:00
13:00
18:00
04:00
09:00
14:00
19:00
05:00
10:00
15:00
20:00
06:00
11:00
16:00
21:00
07:00
12:00
17:00
22:00
In order to avoid any mistake, it is necessary to receive information by phone.
FROM ANTALYA AİRPORT
There is a shuttle service for all Domestic flights to Antalya Airport. International passengers can make use of the Shuttle BUses by coming to the Domestic Terminal Exit.
Shuttle Route
Antalya Airport, Serik Street (Peripheral Highway), Gazi Avenue, Hal Crossroad, Kepez Municipality, Sakarya Avenue, Dumlupınar Avenue, Antalya Bus Station (for intercity buses), Akdeniz Univercity, Atatürk Avenue and last stop; 5M Migros AVM.
Drop Off Points
Tedaş Crossroad, Hal Crossroad, Sakarya Park, Dünya Göz Hospital, Bus Station (for intercity buses), Öğretmen Evi, Akdeniz Univercity, Kemer Bus Stop, Mini City, 5M Migros AVM.
Ticket price, Fare
12,00 TL (VAT Included)
Duration of travel
Approximately 45 minutes (Depends on the traffic.)
Havaş Antalya Airport Buses Shuttle Route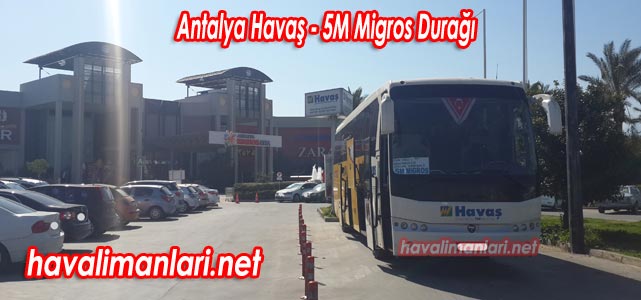 Antalya Havas, 5M Migros Stop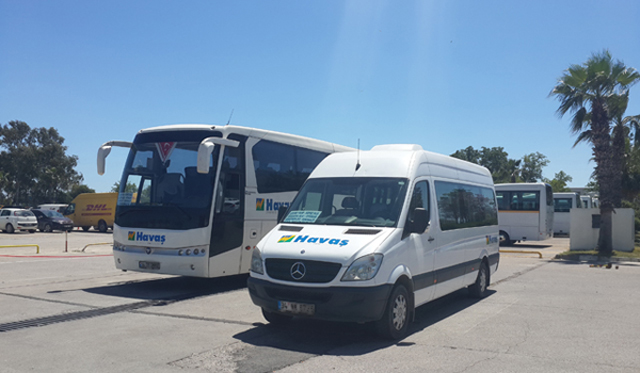 Havaş , Public Bus, Shuttle Station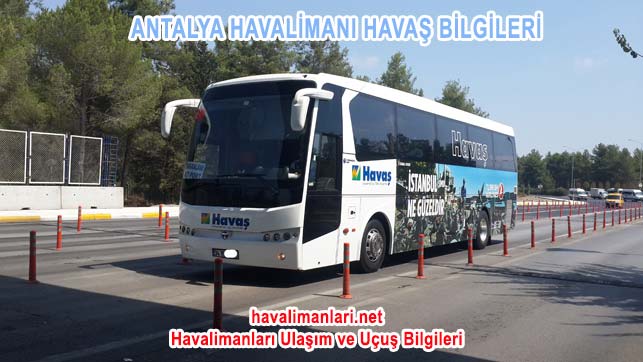 To and From Antalya Airport by Havas, Bus, Shuttle
IMPORTANT: This site is for informational purposes only. Our website does not accept liability for any losses or damages incurred as a result of moving to this Site and the information that appears to be inaccurate or incomplete.
The images and information used in this web site are obtained from ICF airport, DHMİ and TAV Airports, Havaş and related sites.