Antalya International Airport Havaş Public Bus Shuttle Timetable and Route:
Update: 08.09.2020

Antalya Airport Public Havas Buses, Antalya Airport Transfer Shuttle work between from Antalya Airport to City Center, Erasta Mall, Antalya Bus Station (for intercity buses), Akdeniz University , Kemer Bus Stop and 5M Migros Mall.
Antalya nternational Airport Havaş Bus Shuttle Timetable and Route
FROM CITY CENTER TO ANTALYA AIRPORT
From 5M Migros Mall to Antalya Airport Timetable:
01:30
08:00
13:00
18:00
04:00
09:00
14:00
19:00
05:00
10:00
15:00
20:00
06:00
11:00
16:00
21:00
07:00
12:00
17:00
In order to avoid any mistake, it is necessary to receive information by phone.
FROM ANTALYA AIRPORT
There is a shuttle service for all Domestic flights to Antalya Airport. International passengers can make use of the Shuttle Buses by coming to the Domestic Terminal Exit.
Antalya Airport Havas Shuttle Route
Antalya Airport, Serik Street (Peripheral Highway), Gazi Avenue, Hal Crossroad, Kepez Municipality, Dumlupınar Avenue, Erasta Mall, Antalya Bus Station (for intercity buses), Akdeniz Univercity, Atatürk Avenue and last stop; 5M Migros Mall.
Antalya Havas Shuttle Drop Off Points
Tedaş Crossroad, Hal Crossroad, Kepez Municipality, Erasta Mall, Bus Station (for intercity buses), Öğretmen Evi, Akdeniz Univercity, Kemer Bus Stop, Mini City, 5M Migros Mall.
Ticket price, Fare
15,00 TL (VAT Included)
Duration of travel
Approximately 45 minutes (Depends on the traffic.)
Click for detailed info :www.havas.net ...
Havaş Antalya Phone Number:
+90 850 222 0 487
444 0 487
+90 555 985 11 45
Havaş Antalya Airport Buses Shuttle Route
Where is Antalya Airport located?
Antalya Airport is located east of the city and is the third largest airport in Turkey. Antalya Airport consists of three terminals, Terminal 1 and Terminal 2 are used for international flights and Terminal 3 (Domestic) is intended for national air traffic. Terminal 1 is connected to the Domestic Terminal, but is 2.5 kilometers from Terminal 2. Commute between the two terminals by bus number 600 and taxi. Antalya Airport is easily accessible via the D400 road. This connects the airport with the cities of Antalya, Side and Alanya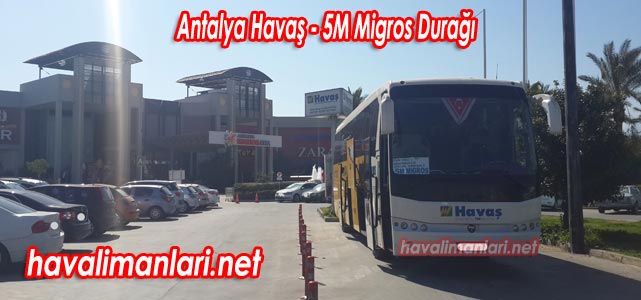 Antalya Havas, 5M Migros Stop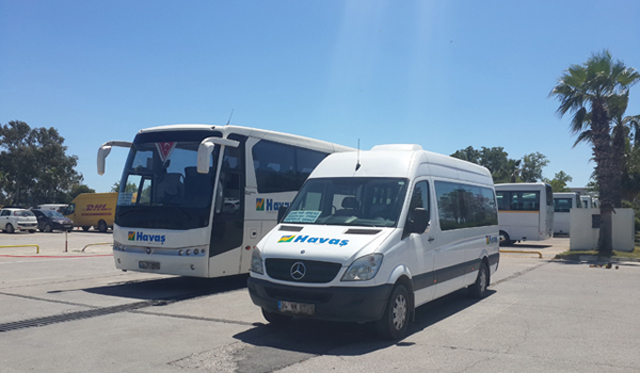 Havaş , Public Bus, Shuttle Station

To and From Antalya Airport by Havas, Bus, Shuttle


Antalya Havaalanı, Antalya Airport
IMPORTANT: This site is for informational purposes only. Our website does not accept liability for any losses or damages incurred as a result of moving to this Site and the information that appears to be inaccurate or incomplete.
We wish you a good journey as a team at havalimanlari.net
Antalya Havalimanı Telephone Number, Antalya Airport IATA Codu, ICAO Codu, Antalya Airport Status, Coğrafi koordinatları, Antalya Airport Contact, Antalya Airport Runway Lenght, Antalya Airport flight information, Airlines Companies, Ground Servis Company, Antalya Airport İnformations....